Road bicycles, also known as racing bicycles, are designed for road cycling. As such, the most important elements of a road bike are its weight and aerodynamic riding position. Road bikes combine drop handlebars and optional handlebar extensions known as aerobars with a raised seat for maximum aerodynamic efficiency. Often the frames on these bicycles are very specialized for road racing, bicycle touring, triathlons, time trials, or track races by using different geometries and aerodynamic tubing. The wheels are relatively close together for nimble handling and the gears, up to thirty combinations, are closely spaced for pedaling at optimum cadence.
Road bike frames may be constructed in traditional manners using chromoly steel, and lugs may be tig-welded or brazed. More exotic materials are also used extensively. Aluminum alloys are common, as are titanium and carbon fiber. Each material provides a different ride characteristic. Chromoly steel has a lively spring to it, while aluminum is stiff and efficient. Carbon fiber provides the builder a wide range of options, but typically these bikes are light, stiff, and absorb road vibration.
Wheel rims are most commonly made of aluminum alloy, but they can also be constructed of carbon fiber which reduces weight; road bike wheels may include aerodynamic spokes, or they may be constructed as one piece. Tires are thin, smooth, and inflated to a PSI of about 120, but certain tires have a maximum capacity of 210 PSI.
Road bike components are collectively referred to as the groupset. The two major groupset manufacturers for road bikes are Shimano and Campagnolo. Other companies that manufacture individual bicycle components but not whole groupsets include Full Speed Ahead (FSA) and SRAM. These groupsets include a set of integrated brake/shift levers, brake calipers, derailleurs, crankset, bottom bracket, headset, and hubs, if a prebuilt wheelset is not included.
Cyclists Ride Road Bikes in a Bicycle Race
Racing bikes are less durable and more expensive than mountain bikes, but are much lighter and much more efficient for use on smooth roads due to aerodynamics and low tire friction.
For more information about road bicycles and road cycling, visit the Road Bike page on the USA Cycling website.
---
Copyright © Zeducorp.
All rights reserved.

Road Bikes - Road Bicycles
Related Road Bike Images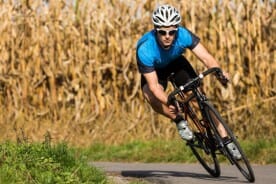 Road Bike Cycling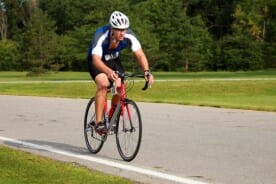 Triathlete Cycling On A Road Bike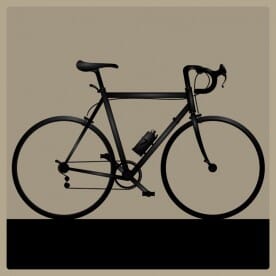 Silhouetted Road Bike