A mountain bicycle is specifically designed for biking on dirt trails or other unpaved surfaces. The tires are wider than those used for road bikes, and they have larger treads for better traction. The larger the wheel, the better able it is to scale obstacles, but larger tires also cause the bike to have less maneuverability.

Mountain bikes are divided into three main categories based on suspension style: hardtail, rigid, and dual or full suspension. Hardtail refers to a frame with no rear suspension; it may often have a front suspension fork. Rigid is a sub-type of hardtail with a very short shock built into the frame. Dual or full suspension bikes have both a front fork and a rear shock with a pivoting rear swingarm on the frame.
Mountain bikes are also classified according to the type of riding activity they are used for. Cross country mountain bikes have a small amount of suspension and weigh relatively little. Enduro or freeride bikes are a bit heavier and are designed to take more abuse. These bikes have longer suspension travel and are designed to take on technical downhill trails and rough terrain. Downhill mountain bikes tend to be the heaviest, and are designed specifically for riding downhill trails and race courses. These bikes are constructed with many components that mimic motocross motorcycles. Trial bikes are mountain bikes set up specifically for bicycle trials. They typically have no suspension and only one gear. Dirt jumping, urban, and street mountain bikes are similar to BMX bikes and freeride bikes. They usually have no rear suspension and only one gear. Single-speed is a mountain bike with only one gear, which is often steel-framed and fully rigid. 4X racing bikes are full suspension or hardtail with strong frames.
A Mountain Biker Rides a Mountain Bike on a Dirt Trail
Mountain biking originated in California in the late 1960's to early 1970's. Gary Fisher introduced the first official mountain bike in 1979. The first mountain bikes were produced with 18 speeds and rim brakes. Newer bikes typically have between 24-27 gears and disc brakes, which offer greater stopping power and require less maintenance than rim brakes.
Standard tire size is 26 inches, although some models offer 24 or 29 inch wheels. 24 inch wheels are used for dirt jumping bikes and 29 inch wheels are only used in cross country mountain bikes. Tires are produced with a wide variety of tread patterns and are available in tubed or tubeless designs. Popular mountain bike tire manufacturers include Maxxis, Tioga, Michelin, Nokian and Panaracer.
For more information about mountain bikes and mountain biking, visit the International Mountain Bicycling Association website and the Mountain Bike page on the USA Cycling website.
---
Copyright © Zeducorp.
All rights reserved.

Mountain Bikes - Mountain Bicycles
Related Mountain Bike Images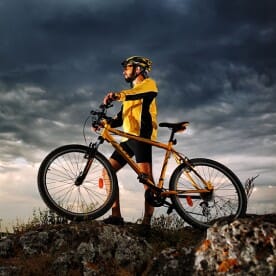 Mountain Bike Cyclist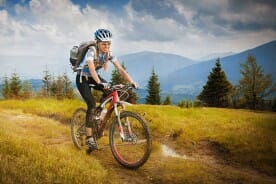 Woman Riding A Mountain Bike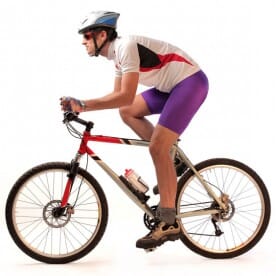 Cyclist Riding A Mountain Bike