The popularity of BMX bikes began in California during the 1970s, when teenagers began imitating their motocross heroes. They would strip down Schwinn Sting Ray bicycles and fit them with knobby tires and motorcycle handlebars. This craze caused manufacturers to begin designing bicycles specifically for the newfound sport of BMX (which is an abbreviation for bicycle motocross). These bicycles typically have 20 inch wheels and are built for racing on sandy or hilly tracks as well as performing tricks on flat ground, ramps, or obstacles (known as BMX freestyle).
Some of the earliest BMX bicycle manufacturers were R & R Racing Products, Mongoose, Webco, and RedLine. BMX bikes were initially constructed for durability, but as racing became more popular, weight became an important consideration. R & R Racing specialized in building strong, lightweight frames, most notably the first 3 pound frame. Lighter materials such as aluminum and chromoly became standard use for frames, and aluminum rims with freewheels and caliper brakes soon replaced steel rims, mag wheels, and coaster brakes.
Standard BMX bikes are designed for racing courses from 900 to 1,100 feet in length. These courses are designed after motocross tracks but are smoother. Races are typically divided up in classes depending on age and skill level such as Novice, Intermediate, Expert, "A" Pro, and "AA" Pro. The short, fast BMX races require a high energy level and good bike handling skills. BMX freestyle bikes are designed with extra places to position the feet while performing tricks and the ability to spin the front wheel 360 degrees without entangling the handbrake cable. In freestyle BMX events, points are awarded for execution of riding stunts.
Silhouette of a BMX Bike Rider, on a Red Background
BMX is a challenging sport and a good energy outlet for young riders, and the skills acquired in BMX riding apply to all types of cycling. However, extreme BMX riding can be dangerous, and BMX riders should wear appropriate safety gear.
For more information about BMX bicycles and BMX cycling, visit the American Bicycle Association website and the BMX Bike page on the USA Cycling website.
---
Copyright © Zeducorp.
All rights reserved.

BMX Bikes - BMX Bicycles
Related Images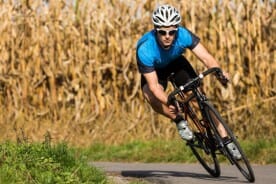 Road Bike Cycling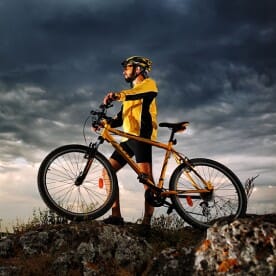 Mountain Bike Cyclist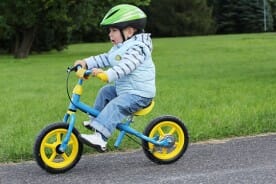 Toddler Balancing On A Two-wheeled Bike